Be The Change and Challenge Day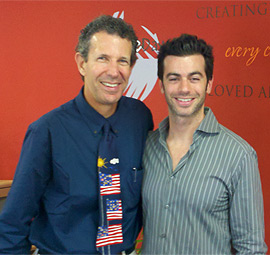 Jim Kooler with Evan Bailyn
The Be The Change Movement is just moving into the social networking world and are very fortunate to have Evan Bailyn providing us guidance on how to share our common vision of assuring that every child is safe, loved and celebrated. Together with the Evan Bailyn Foundation we will build communities that are free of bullying and support young people to create the life of their dreams!"

- Dr. Jim Kooler, Director
Be The Change / Challenge Day
About Be The Change
The mission of Be The Change / Challenge Day is to provide youth and their communities with experiential programs that demonstrate the possibility of love and connection through the celebration of diversity, truth, and full expression. Their vision is that every child lives in a world where they feel safe, loved and celebrated.

Be The Change specifically focuses on inspiring people to be the change they wish to see in the world, starting with ourselves, through compassion and service using the formula for change – NOTICE, CHOOSE, and ACT.

To learn more, please visit challengeday.org.